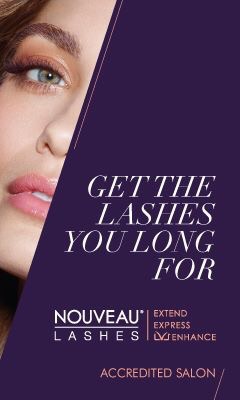 Out with the old, in with Nouveau
Committed to better lashes
State-of-the-art extension & the revolutionary LVL Natural Lash Lifting Treatment
Extend = A look that creates longer, fuller lashes that can last up to eight weeks. With the flexibility to create a variety of looks, this relaxing treatment takes up to 90 minutes to complete.
Express = Strip Lashes, Individual Lashes & Lash Fillers. The thread application techniques within Express let us create a fuller look in around 20 mins that can last anything from one day up to two weeks, making them perfect for a night out or a one-off occasion.
LVL Enhance = LVL Enhance is a revolutionary natural lash treatment taking the beauty industry by storm. Exclusive to Nouveau Lashes, LVL allows us to enhance your natural eyelashes creating the appearance of added length, volume & lift without mascara or extensions. Treatment takes 45 minutes but the results are instant & last up to 8 weeks.